California Consumer Privacy Act (CCPA) Compliance Information and News
Understand the far-reaching implications of the CCPA on your clients and business.
FEATURED PRODUCT
In Focus: California Consumer Privacy Act
Follow today's CCPA developments so you can plan your strategy for tomorrow and provide critical guidance for your clients and business. Protect your interests and advise with confidence with the resources on the California Consumer Privacy Act — In Focus page on Bloomberg Law.
What is the California Consumer Privacy Act?
The California Consumer Privacy Act (CCPA), signed into law June 28, 2018, creates an array of consumer privacy rights and establishes a private right of action for security breaches and potential statutory damages of between $100 and $750 per consumer, per incident. Businesses subject to the CCPA must comply by Jan. 1, 2020, but the text of the law contains a 12-month "look-back" provision, which requires businesses to respond to consumer requests for personal information collected or sold within the past 12 months.
ANALYSIS
Microsoft to Extend CCPA Rights Nationwide; Should You?
Understand implications of Microsoft's announcement that the company will extend the "core" privacy rights granted by CCPA to all of its customers in the United States, including takeaways from companies that might be considering similar action.
ANALYSIS
First DSAR? Demystifying Data Access Dos and Don'ts
Get guidance on what to do – and missteps to steer clear from – when responding to a Data Subject Access Request (DSAR) as these requests become more widespread with the implementation of the CCPA.
INSIGHT
The Top Five Privacy Developments to Watch in 2020
From uncertainty and questions around the CCPA to the continued fallout from EU GDPR, the FTC's involvement with privacy enforcement, and the role of state attorneys general in privacy issues, WilmerHale's Kirk J. Nahra looks at the top five privacy issues for 2020.
Access CCPA Guidance on Bloomberg Law
INSIGHT
Companies Must Be Ready to Respond to Evolving Biometric Privacy Laws
Jennifer J. Daniels and David J. Oberly, attorneys with Blank Rome LLP, explain that companies using biometric data must be prepared to devote the necessary time, effort, and resources to respond to this rapidly evolving landscape of privacy law.
NEWS
California, State Privacy Laws May Get EU Recognition
The EU may decide to recognize privacy laws in California and other U.S. states as sufficient to protect Europeans' personal data. See how this potential decision would impact U.S. companies in recognized states that would no longer need to rely on contract clauses or the Privacy Shield international agreement.
NEWS
Ad Tech Companies Seek to Avoid California Privacy Requests
Learn how some leading tech companies are seeking to avoid a new California requirement that they stop selling consumers' data upon request by asking California Attorney General Xavier Becerra (D) to treat some of their business units as service providers, which would exempt them from the requirement.
Get a Clear Understanding of This Groundbreaking State Law
In Focus
California Consumer Privacy Act
Access a sampling of the depth and breadth of coverage Bloomberg Law delivers to help you navigate the requirements set forth by the California Consumer Privacy Act (CCPA). See samples of Practical Guidance documents that will help you formulate your compliance strategy and demystify this complex law, review Bloomberg Law Insights crafted by expert practitioners on nuances of the CCPA, learn how our Analysts detail specific aspects of the law and access Bloomberg Law news for developments from Sacramento, DC and beyond.
In Focus Customer Resources
Access to this information requires a subscription to Bloomberg Law. If you are a subscriber, click here to sign in
With the enactment of CCPA, a number of other state legislatures have introduced similar measures that grant consumers more expansive rights over their personal information. This tracker displays state-by-state summaries of the proposals and links to text of the underlying bills.
A sample CCPA Data Processing Addendum that can be amended and edited for use.
A useful chart that displays the differences and similarities in these regulations including details on residency requirements, types of data covered, exceptions, territorial scope, obligations on business, enforcement and more.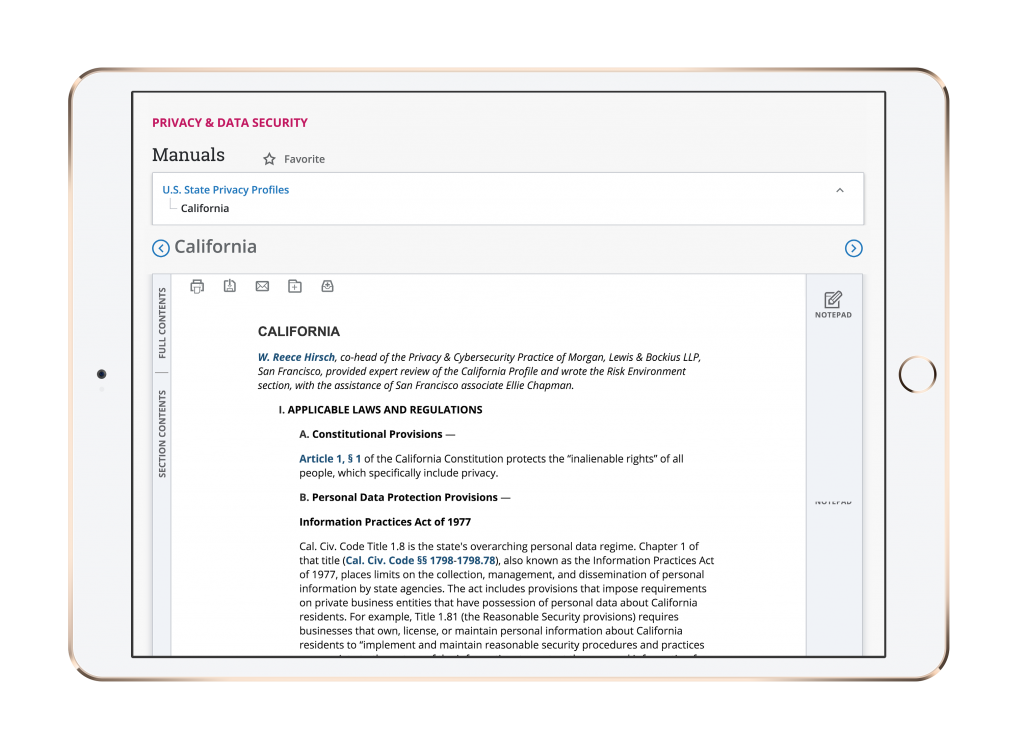 An overview of California data privacy and security laws, including sections specific to data storage, security and disposal, various types of data, sanctions and fines, and more, with insight by W. Reece Hirsch, co-head of the Privacy & Cybersecurity Practice of Morgan, Lewis & Bockius LLP in San Francisco.
Latest Privacy and Data Security News
See it for Yourself
Avoid potentially costly pitfalls and craft your strategy for compliance with tools and resources including:
Detailed coverage of the latest developments in CCPA enactment and enforcement.
Bloomberg Law Insights articles crafted by practitioners and subject matter experts.
Bloomberg Law Analysts detailed perspectives on the regulation and its broader business implications.
Bloomberg Law Trackers including the CCPA Amendments Tracker which displays and links to text of bills introduced to amend the law and CCPA Copycat Legislative Proposals Tracker which tracks states potentially enacting similar legislation around consumer data privacy.
Practical Guidance documents including a step-by-step California Consumer Privacy Program Implementation Checklist, an Overview of Business Rights & Obligations under CCPA, a CCPA vs. GDPR comparison table and more.